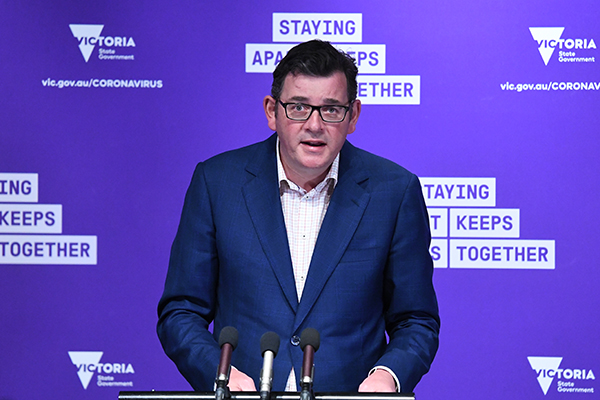 Home visits in Melbourne will be restricted to one per day as the city emerges from its lockdown.
The day after announcing a widespread easing of the city's restrictions, Premier Daniel Andrews confirmed on Tuesday how its residents can visit each other in their households from midnight.
He also said that masks will remain mandatory outdoors for the rest of the year and probably into 2021, throughout the state.
Victorian Chief Health Officer Brett Sutton said he was "very confident" an outbreak in Melbourne's northern suburbs, which delayed the Monday announcement by 24 hours, was now under control.
Confirmation of the home visit rule comes after Victoria reported its second-straight day of no coronavirus deaths and no new cases.
This is the first time two straight days of no new cases or deaths has been recorded since March 5-6.
The announcement on home visits was delayed by a day so health authorities could work out the rules, which the premier acknowledged would have "some complexities".
But the base rule is two adults and any dependents from one home can only visit another household once per day.
The rule also applies to the home being visited, meaning anyone there cannot visit another residence on the same day.
The home rules will remain beyond November 8, when the 25km travel limit and Melbourne's "ring of steel" containing the city from regional Victoria is set to end.
"Ultimately what we tried to do here is just have one - one household - and a second household connecting once a day and then they don't connect inside (the home) with anybody else," the premier said.
"I know it's not a nice thing to say or a nice thing for anyone to acknowledge but the place where you feel safest, your home, is actually the most dangerous environment for the spread of this virus."
Mr Andrews said masks had to be worn outdoors for the time being throughout Victoria, particularly given the "ring of steel" would soon end.
While he said masks are frustrating, they have a significant benefit in helping combat the virus.
"This is one of those trade-offs - if we're going to have that ring of steel gone on the 8th, and we're going to have people travelling into regional Victoria and vice versa, and that's critical for tourism and lots of reasons," he said.
"Masks need to be with us across the whole state .. at least until the end of the year and into next year."
He also said there would be an update on November 8 about when more people can return to their workplaces.
Mr Andrews added there would be more talks with the NSW, SA and Tasmanian governments later this week about the reopening of borders.
The virus death toll was last updated on October 19, with the state toll remaining at 817 and the national figure on 905.
Melbourne's 14-day case average is down to 2.8 and there were six mystery cases from October 11-24.
The corresponding figures for regional Victoria are 0.2 and none.
From midnight Tuesday, all retail outlets will reopen along with cafes, restaurants and pubs, with some restrictions on numbers.
© AAP 2020
Photo: Victorian Premier Daniel Andrews (AAP Image/James Ross)
Today's the first time we've recorded two zero days since the start of March.

This is yours Victoria. Let's keep going.

— Dan Andrews (@DanielAndrewsMP) October 26, 2020